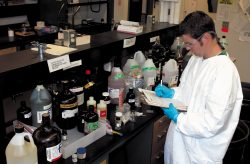 Prior to shipment and disposal, your chemical wastes must be accurately organized by hazard class, packing group, and proper shipping name. Our top chemical specialist will inventory and provide proper containerizing for all of your various chemicals to ensure both efficiency and safety during disposal, as well as US Department of Transportation (DOT) compliance during transit. Our team is highly trained and adept at packing up your lab quickly and efficiently, so your team does not lose precious time.
Currently, EMT handles lab packing and chemical waste disposal for these industries:
Schools (Middle, High schools, Colleges, and Universities)

Healthcare Practices, Clinics and Hospitals

Warehouses and Manufacturing Plants

Research Laboratories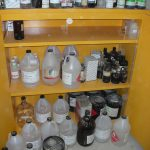 And many other industries with the need for an efficient and reliable option for cost-effective solutions to their lab chemical disposal. Lab packing can be very dangerous for your team and your business, so it is imperative that qualified personnel take care of it to ensure your safety and the safety of the environment.
Want to learn more about our lab packing services in San Bernardino, CA? Call today at 800-579-6834 or request a quote!