24 Hour Emergency Response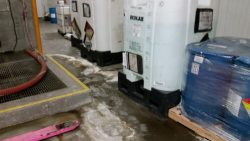 When life happens, we are here to help. Environmental Management Technologies, Inc. (EMT) is available 24 hours a day, 7 days a week, 365 days a year with full access to a highly-trained staff of Environmental Engineers, Geologists, Industrial Hygienists, Chemists, and Environmental Technicians to assist in any given situation. EMT specialists are highly trained and available to assess your emergency situation and prepare for immediate evacuation of personnel in danger of contamination under any circumstance. We have full Type Level A to Level D ER capabilities as well as a fleet of Vacuum Tankers.
Our clean-up team will get to work for you, taking care of the containment and handling of spilled toxins, acids, oil, gas, and any other waste material spills that can happen at your workplace, job site, or during transport.
If you're in need of an emergency hazardous waste response, call EMT at 800-579-6834.