Environmental Management Technologies
YOUR SOURCE FOR COST EFFICIENT SOLUTIONS TO YOUR ENVIRONMENTAL NEEDS

Welcome to Environmental Management Technologies
Environmental Management Technologies, also known as EMT, is a full-service environmental company based in San Bernardino, CA with over 15 years of experience providing exceptional service to a variety of industries. As a leader in our industry, our team is put through rigorous training to ensure we can handle any environmental need we may encounter. With 2 locations in Southern California, let EMT be your first and only call for turn-key environmental solutions, from hazardous waste disposal to spill response to tank cleaning and more . Our San Bernardino environmental management company is looking forward to meeting with you to discuss how we may benefit your firm in this ever-changing field of environmental compliance.
Environmental Management Technologies Brand video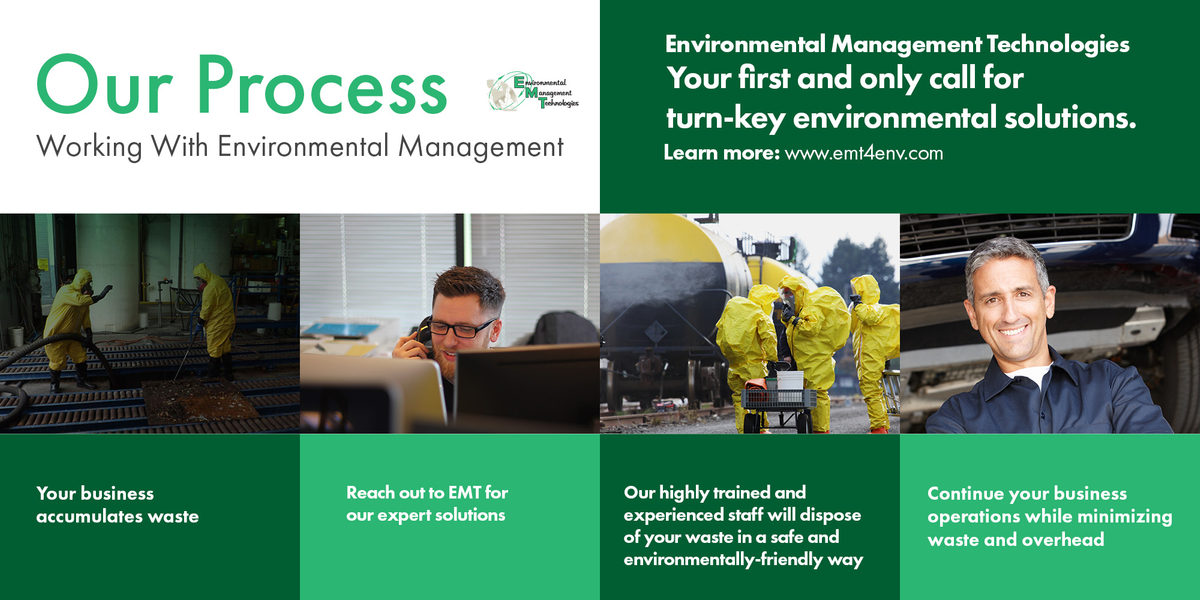 A Full Service Company
DEDICATED TO PROTECTING THE ENVIRONMENT
Lower BG Image - Hidden Text
Contact Us Today
To Get Started
Client Testimonials
SEE WHAT PEOPLE ARE SAYING ABOUT US
LOUIS P.

Environmental Management Technologies is fast and VERY helpful! They were very professional and knowledgeable about how we can get rid of not just our hazardous waste, but also recommended other companies that could help us get rid of metal scrap, electronics, etc! They also helped assess a mysterious fluid and helped us get rid of it from our property! Thank you!!

MICHEAL F.

Environmental Management Technologies is the best hazardous waste disposal company in Southern California. The staff here make it easy for us to get rid of not only hazardous waste, but are also helpful if I have any questions. Overall it's a smooth operation with nice people performing important work.

ALCOTT K.

The support staff have been great. We were very impressed with Environmental Management Technologies. Their planning was extensive and what they promised, we got. Their staff are friendly and good at what they do and their supervisors are efficient and obviously know their industry well. They do a great job.

SUSAN K

TRUST: This is the most important reason for maintaining a relationship with EMT. I have worked with questionable waste haulers in the past and was very skeptical when I was searching for a new company to handle our environmental needs. From the first time I met Mike, I knew I found a company that I could trust. It has been over TEN years now and I am still a completely satisfied client of theirs.

SCOTT Z

Riverside Community College has remained loyal to Environmental Management Technologies for all these years because of their professionalism and prompt service. I would recommend their services to anyone who is considering them for their waste management needs.

CHRIS B

We are extremely lucky to have forged this business relationship, which has provided us not only a company that is able to meet, but exceed our expectations!

MARIBEL R

Fast response when needed, always provides professional and timely service, that's why EMT is my only choice for my waste hauling needs.